Delving into the Glenside Hospital Museum's recycling bins, I came across a classic.
Yet another bedraggled newspaper has emerged from a clear out at Glenside Hospital Museum. And what a piece of history, as Britain enters the latest phase of Conservative government.
It was a moth-eaten copy of the Daily Herald, dated 1 February 1950. The Herald, which grew out of an industrial dispute back in 1912, had once been the world's biggest selling daily with at least 2 million sales. It remained one of Britain's most popular national newspapers into the 1960's under several different ownerships, including the Trades Union Congress (TUC).
The lead story in this particular edition was headlined YOU LOSE IF TORIES WIN; TUC puts election issues to workers. There were 8 million trade union members in those days, and the 1950 General Election was only weeks away.
The celebrated post-war Attlee government had ushered in the welfare state with the creation of the National Health Service, Family Allowances and the nationalisation of the Bank of England, civil aviation, the coal industry, electricity and gas, the railways, road transport, and the steel industry.
But Labour's majority of 145 was about to be reduced to a mere 5. And less than two years later a snap election would put Winston Churchill and the Tories back in power with an overall majority of 17.
However the front page is dominated by a huge cartoon, celebrating quite a coup as satirist Low, at the top of his game took up residence at the Herald. A New Zealander, David Low would be knighted in 1983 after many years at The Guardian.
A youthful Harold Wilson, then President of the Board of Trade, also gets a mention on the front page. An inside story explains that the future Labour Prime Minister was out on the stump warning 'A vote for the Tories is a vote given for dearer food'. He claimed that Tory plans to cut the tax on profits and the super tax would put at risk food subsidies which were saving 'an average family of four 14s a week' (£17 at today's prices).
A column headed 'Housewives' Voice' proved a platforms for women today why people should vote about. Mrs Bessie Jones of Bolton sadder husband John Albert a skilled cotton spinner had come home from four years in the First World War to eight years on the dole, when the cotton mill closed. His dole money came to 26 shillings (£1.30) a week but for only 26 weeks. Their children had to find work and the Unemployment Assistance Board turned them down as between them the children were bringing in six shillings (30p) more than the limit on earnings. The family of eight had to make do on £2 10 shillings (£2.50) a week with weekly rent at 15 shillings (75p). Bessie made ends week with a part-time cleaning job which brought in 9 shillings a week (45p)
"They were horrible days," she recalled. "They made you feel unwanted. Millions of men and women feared every knock on the door." (If it was not the rent collector it would be the tally man collecting interest on loans.) "Under Toryism millions us were too poor to get enough to eat."
The election features throughout the paper, Bristol less so. But in the 'Reader's Slogans' column there is a contribution from F. Ewins of Knowle: 'MAKE IT GENERAL EJECTION – OF TORIES'.
Bristolians may have been pleased to read that generous long-term state aid was promised for the remodelling of areas 'blighted' by the wartime blitz.
One target of the Luftwaffe had been the electric engine factory run by Newman Industries, then a major employer in Yate. Among the Classified Ads was a call for 'ambitious Draughtsmen' for that 'progressive Engineering Company, Newman Industries'.
Bristol's biggest mention was at the foot of the Sports page, with predictions for winners at the city's greyhound stadiums. Who knows now if Noisy Paddy won the 7:36 at Knowle, or Coloured Schoolboy II won the 9:06? At Eastville, Keepers Smack was scheduled to win the 8pm, with Timely Conqueror to triumph at 8:15, and Khan Dhu to take the 9pm from Cappagh Casanova.
Top story on the back page went to Clifford Webb with a headline that said it all: CROWD YAWN AS ROBERTO PROIETTI BEATS BILLY THOMPSON: Slow hand-clap for crude boxing'.
Beneath it there was better news for pigeon fanciers in the National Homing Union. They could now get 56lb of maple and dun peas from New Zealand and Tasmania each month, according to a story headed Pigeons to get more corn. They foretold a bumper breeding season given this massive increase from the previous monthly ration of 21lb.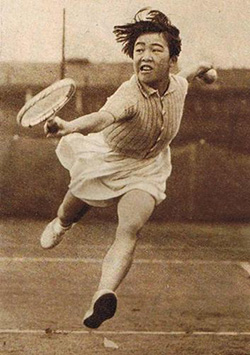 The only woman on the entire page is tucked away in a tiny filler squeezed in at the bottom of the sixth column: 'Miss Gem Hoahing won the women's singles title in the Western India lawn tennis championship in Bombay.' is all it says.
Born in British Hong Kong, Ms Hoahing was 29 at the time. At four foot nine and a half inches she is said to have been the shortest person ever to play in the Wimbledon championships. She reached the fourth round twice in 19 appearances. Her strength was her speed, and the press dubbed her 'Little Gem', 'The Mighty Atom', and 'Little Poker Face'. After retiring she opened a flower shop in London, but continued to play tennis into her 80s. She died in 2015.
Elsewhere in the paper Fashion Editor Marjorie Proops could be found reporting on hats from Paris, above Mary Marshall's agony aunt column. It was a role Marge would take over from Mary, before moving to the Daily Mirror.
Her 'Dear Marge' column ran until her death in 1976, aged 85. A socialist she was also renowned for her campaigning work around issues of sex and sexuality.
In the adjacent Books column, John Betjement, not yet Poet `Laureate, reviewed Peter de Polnay's unauthorised biography of Edward Fitzgerald, translator of The Ruba'iyat of the Omar Kayyam. Damning with faint pracise, he says Into an Old Room is 'readable and discerning' and 'much more interesting than [de Polnay's] usual novel.'
He was more impressed by L.A.G. Strong's biography of Maud Cherrill, who had most influenced the popular writer as a child. Betjeman describes it as 'an inspiring tribute to one of the worst paid but most rewarding, most worth doing and most unselfish of professions – that of a school-teacher'.
For Herald readers avid for knowledge a half-page advert on page 3 offered the chance to order the 172-page New Atlas of the World, the 385-page, Illustrated Practical Home Decorating, and the 6-volumes of The War in Pictures.
The big, and only, showbiz story was the 21st birthday of 'promising young film star' Miss Jean Simmons who had made her name playing Estella in David Lean's version of 'Great Expectations' just after the war.
Although apparently surrounded by 19 cameramen, and posing to eat cake and drink champagne with a variety of screen stars including Trevor Howard and Jimmy Hanley, only one picture appears. It shows Jean cutting her star-shaped, 7-foot cake watched by J. Arthur Rank, to whom she was under contract. His gift to her was a dressing table. Later she was whisked away by her mother who had bought glassware for her daughter's swanky West End flat.
The classic 'triumph over tragedy' story in this edition of the Herald features 7-year old 'miracle child' Janet Warren, who had delighted reporter Maurice Fagence with a 15-minute performance of aPavlova's 'Red Shoes' ballet dance sequence. Back in 1944 the paper had covered the story of a little girl born with two dislocated hips. Her new found agility is attributed to the expertise of the Great Ormond Street Hospital and their 5-year, day-by-day occupational therapy 'Plan for Janet'.
There are plenty of other surprising stories. Robert Traini reported that 'Two youths coshed a woman unconscious in a 7-minute attack on London's experimental double-decker rush-hour train yesterday'. (Whatever happened to that short-lived experiment?)
Meanwhile a 14-year old 'pale-faced new boy' had gone missing from a public school in Surrey, and a police investigation was underway into 'air-smugglers' flying currency, bullion, diamonds and people without passports into and out of the country.
The National Coal Board announced its 'Ladder Plan' to recruit 3,000 young men into the mining industry. They would get the benefit from sandwich courses over three years of leading to the award of a General Certificate and possible promotion.
A Ministry of Labour advert insisted '- you'll have a job for good in Mining' where underground wages ranged from £5 15s to £10 a week (equivalent to £140-£240).
And down in the Antarctic it had taken a '3-hour tussle in icy sea' to row two sick men to a rescue plane. They has spent a three year stint with a scientific mission on Stonington Island, Britain's most southerly base.
Back home, chicken breeder Pat Glasson had had a lucky break too. The imprint of his hob-nailed boot gave the game away when he stole a rooster from his neighbour, after miscalculating the number of chickens he needed to fulfil his `Christmas order book. "I did not know 13 could be so unlucky," he told Cornwall's Camborne Court, explaining that he had reared 12 chicken only to discover he had one more customer. The yuletide spirit was in evidence when he was given a conditional discharge.
There was also good news for chorus girl Edna May Pearson, awarded £2,400 for injuries she received when thrown from a pantomime galleon by faulty scenery during a matinee performance of 'Humpty Dumpty', two years earlier. A broken elbow meant she could no longer play the piano, drive a car or do her housework properly. A fully-robed Lord Chief Justice Goddard was driven from Leicester Assize Court to the local Opera House to for a re-enactment, making his decision after only ten minutes in the wings.
Less lucky was a Lancashire member of the National Union of Railwaymen who lost a leg when he was knocked down by a wagon while clearing snow from clogged points on the rail tracks. But his union did manage to secure him £4,500 in compensation.
All those years ago new technology was still a thing. Ring up for news advised a tiny News In brief (NIB) at the foot of the front page 'Switzerland inaugurates tomorrow a system by which telephone subscribers dial three numbers and get latest news.'
But, according to the paper's American correspondent Arthur Webb 'The art of striptease is on its last legs, victim of television and the Bikini two-piece bathing suit.' He quoted stage manager Crystal Anne saying "Why should people come to a theatre when they can see more on any beach."
Hard to believe that this stalwart voice of the labour movement was to be relaunched after its closure in 1964 – as The Sun, later taken over by anti-union proprietor Rupert Murdoch of Page Three infamy.